Rohit Sharma is an absolute asset for Indian cricket team his form affects India directly or indirectly. In current India Vs England. series he is showing his class and making runs.
In test cricket his journey is full of ups and downs but no doubt opening suits him very well.
Today we will look at 5 records of Rohit Sharma in Test Cricket.
1. Century on Debut
Rohit Sharma on his test debut scored a ton against West Indies on 6 November 2013 at Kolkata. He scored 177 runs in 301 balls. His century included 23 fours and 1 six. There are only few players in test cricket who have scored a century on their debut and Rohit Sharma is among them.
2. Hundred in each innings of a match
To score two centuries in a match is a difficult job for batsmen but Rohit Sharma always gives his fans something unexpected. On 2 October 2019 at Vishakhapatnam in a match against South Africa Rohit Sharma scored two centuries in two innings. He scored 176 in first inning and 127 in second.
3. Hundred in consecutive matches from Debut
Rohit Sharma on his test debut smashed a ton and continued his form in second match too. In 2013 when West Indies came to India Rohit Sharma scored two consecutive test hundreds in first inning of two consecutive test matches against West Indies. In first match on 6 November 2013 at Kolkata he scored 177 and in second match on 14 November 2013 at Mumbai he scored 111*.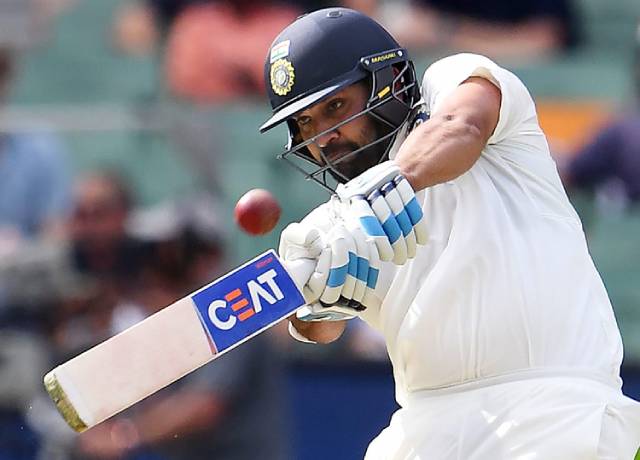 4. Highest partnership for seventh wicket
Rohit Sharma and Ravichandran Ashwin made 280 runs partnership for seventh wicket in a match against West Indies on 6 November 2013 at Kolkata. Their 280 runs partnership is at No.4 in highest runs partnership for seventh wicket in test cricket.
5. Hundred in all three formats as a visiting player in England as opener
It is one of the most interesting record made by Rohit Sharma Recently when he scored his first test overseas century at oval in 4th test against England. He became the only player to score hundred in all three formats in England as a visiting player and as an opener. He scored test hundred at oval, hundred in world cup 2019 against England and hundred in T20 series of England and India in 2018.
Also Read: 5 Most Successful Captains in Test Cricket History