Famous players who never won any ICC trophy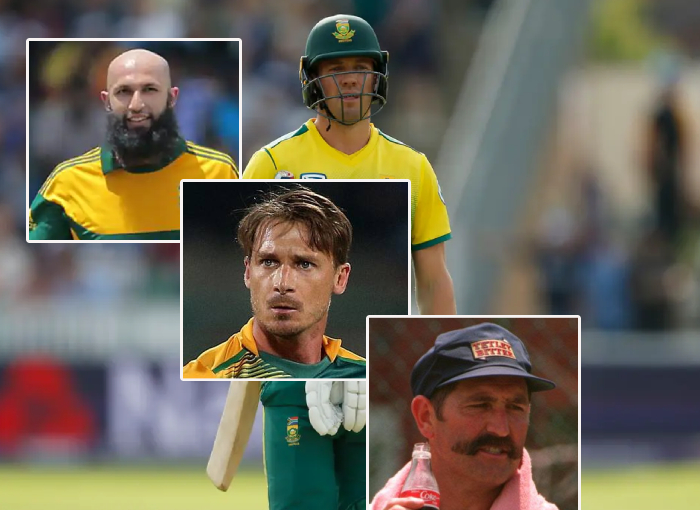 Famous players who never won any ICC trophy
Sometimes luck can be very harsh on you and cricket shows us this thing perfectly as we saw many of our favourite players struggling to get their hands on any ICC trophy. ICC trophy includes T20 world cup, champions trophy, 50 overs world cup and now World Test Championship. In this article, we will see the names of those players who were very famous and one in a million but never won an ICC trophy.
AB De Villiers
The very first name which comes to our mind is our very favourite player AB De Villiers. The former South African skipper AB De Villiers never got his hands to any ICC trophy in his career. Even after a wonderful career, his cabinet will always be lacking with an ICC trophy. He got very close in 2015 when the South African team was unstoppable but we saw him shedding tears after losing the semi-finals against New Zealand.
Hashim Amla
Another South African player and one of the calmest players to ever play the game Hashim Amla also never got any ICC trophy in his career and he ended his career without any. He was a great opener of his time and there is no doubt that how much he was good for South Africa while opening.
Dale Steyn
This list is not short of South African players as South Africa hardly won any ICC trophy but the player who played in that team were simply greats. Dale Steyn is one of them. The Steyn gun of Proteas was the greatest ever fast bowler in Test cricket's history. But unfortunately, he ended his career without any ICC trophy to his cabinet.
Graham Gooch
Graham Gooch was former England captain and a great player of his time. Gooch was retired with no ICC trophy in his career although there was only one ICC trophy when he used to play and that is World Cup.
Ian Botham
Ian Botham was one of the most famous and successful all-rounders in cricket's history. He was an English player who played his whole career as an England player. His greatness can only be remembered with his records and stats as a former all-rounder who never won any ICC trophy in his career.
Waqar Younis
Former Pakistani fast bowler Waqar Younis was a great fast bowler of his time. He alongside Wasim Akram made a deadly duo to which any batsmen in the world are afraid to face. Waqar ended his career without any single ICC trophy as the legendary fast bowler of Pakistan was never on the winning side of any ICC trophy.
Lance Klausner
Another South African player Lance Klausner was a very known all-rounder of his time. He was known for his explosive and aggressive batting and also for his fast bowling. Klausner was a very good player but his career ended with zero ICC trophies. Later he also became a coach but as a player, he will always regret not winning an ICC trophy.
Brendon McCullum
Former New Zealand's skipper Brendon McCullum was known as a revolutionary in New Zealand's cricket history as he made New Zealand a competitive team. He was a very great batsman. He was a fearless cricketer who played cricket in his way but he also ended his career without any ICC trophy to his cabinet.