Top 5 bowling performances of Kuldeep Yadav in IPL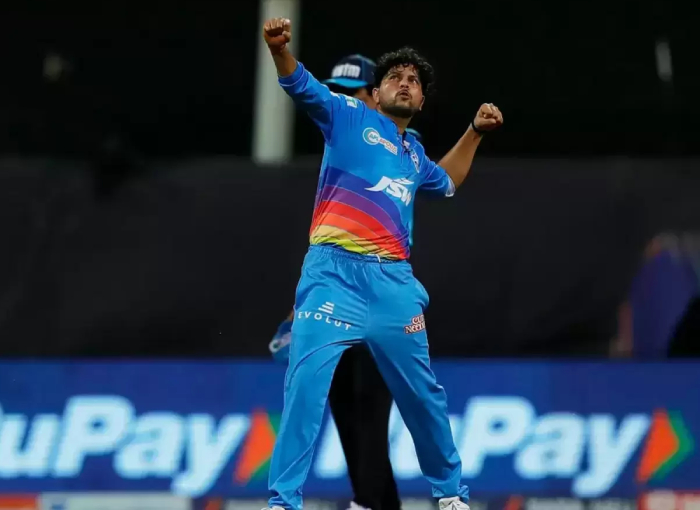 Kuldeep Yadav
Kuldeep Yadav who is doing very well in IPL 2022 is putting some of the best bowling figures in IPL. Yadav was not in action for almost two years but this time he was bought by Delhi Capitals and he is turning out to be their best spinner. In this article, we will see the top 5 bowling performances of Kuldeep Yadav in IPL.
Kuldeep Yadav bowling performances
#5. In 2018 Kuldeep Yadav was part of the Kolkata Knight Riders team and after having a very successful run with the Indian team Yadav was given chance in every match for KKR. He delivered his 5th best bowling performance against his current team Delhi Capitals where he took 3 wickets and gave only 32 runs in his spell
#4. Chinaman's fourth-best bowling performance came in this IPL against Mumbai Indians where he took 3 wickets and gave only 18 runs in his 4-over spell.
#3. Yadav's most satisfactory and also his third most successful bowling performance came against his old team Kolkata Knight Riders. Yadav is having a great IPL season so far and fans want him to play alongside Chahal in the Indian team again. It was the first match between KKR and DC and it was a day match where Kuldeep took 4 wickets and gave 35 runs in his spell.
#2. As you can see so far most of Kuldeep's best performances came in 2018 and 2022 and his second-best is also from 2018 when he took 4 wickets against Rajasthan Royals and gave only 20 runs in his spell.
#1. It looks like Kuldeep is all after his old team in IPL 2022 as his career-best IPL figures came against Kolkata Knight Riders in the second match between KKR and DC in IPL 2022. Chinaman has given it all in IPL 2022 and he is proving himself in every match also, he is giving a very strong reason to BCCI for his inclusion in India's team. Kuldeep took 4 very crucial wickets against KKR and gave only 14 runs in his four overs spell.