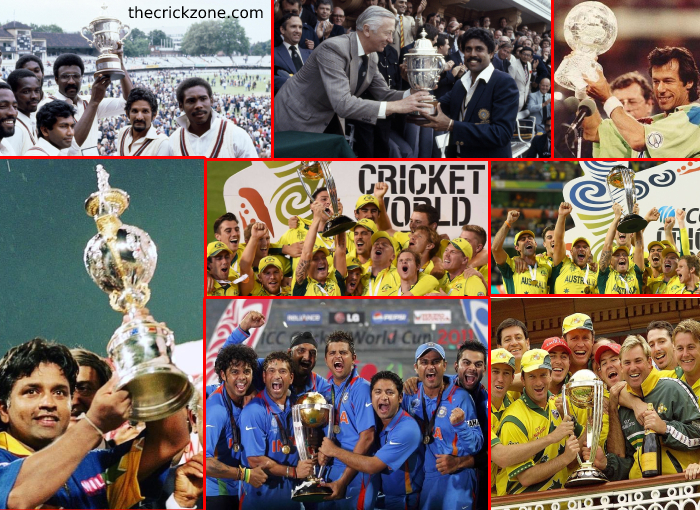 ICC Cricket World Cup History: winners and runners-up list
All cricket lover is crazy about ICC Cricket World Cup. Everyone is waiting for the World Cup to be held once in four years. From 1975 to 2019, 12 World Cup tournaments have been held. The first World Cup was won by the West Indies, but in the entire journey of the World Cup, Australia has won the ICC Cricket World Cup 5 times. West Indies and India are the countries that have won the World Cup twice. Though Pakistan, England, srilanka also won the World Cup. 
The World Cup was organized for the first time in the year 1975. The West Indies team, under the leadership of Clive Lloyd, won the first title by defeating Australia by 17 runs in the final at Lord's ground. Here are the list of ICC Cricket World Cup tournaments with winner and runner up.
World Cup 2019 Final
Winner: England
Runner Up: New Zealand
World Cup 2015 Final
Winner: Australia
Runner Up: New Zealand
World Cup 2011 Final
Winner: India
Runner Up: Sri Lanka
World Cup 2007 Final
Winner: Australia
Runner Up: Sri Lanka
World Cup 2003 Final
Winner: Australia
Runner Up: India
World Cup 1999 Final
Winner: Australia
Runner Up: Pakistan
World Cup 1996 Final
Winner: Sri Lanka
Runner Up: Australia
World Cup 1992 Final
Winner: Pakistan
Runner Up: England
World Cup 1987 Final
Winner: Australia
Runner Up: England
World Cup 1983 Final
Winner: India
Runner Up: West Indies
World Cup 1979 Final
Winner: West Indies
Runner Up: England
World Cup 1975 Final
Winner: West Indies
Runner Up: England