James Anderson reaches in top 3 highest Test wickets with 619 wickets, equal to Anil Kumble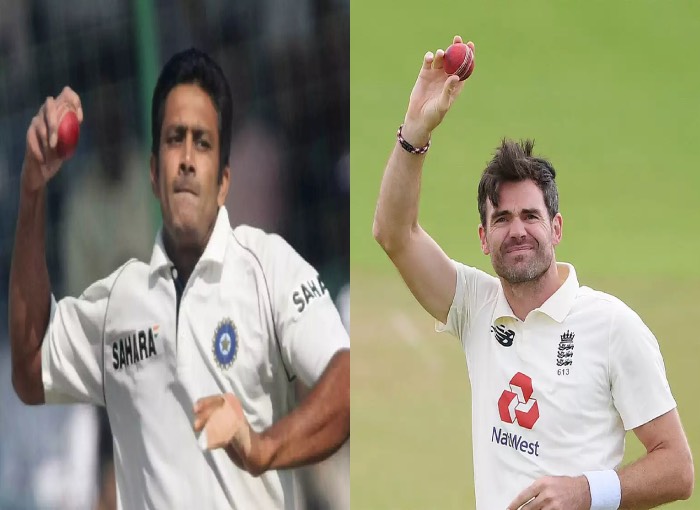 James Anderson reaches in top 3 highest Test wickets with 619 wickets, equal to Anil Kumble
The first match of the 5-Test series between India and England is being played at Nottingham Trent Bridge. In this match, England's experienced fast bowler James Anderson has reached the top-3 players in terms of taking most wickets in Test cricket, equaling the record of legendary spinner Anil Kumble. Although the matches are still going on, in the meantime they can leave Kumble behind. Anderson had a total of 617 wickets in Test cricket. Andersen has taken three wickets in the India-England series. Now Anderson has 619 wickets in his name. Sri Lankan spinner Muttiah Muralitharan has the most wickets in Test cricket.
Take a look on Top 5 highest wicket taker in Test Cricket
The record for taking most wickets in Test cricket is held by former Sri Lankan great off-spinner Muttiah Muralitharan. Murali has taken 800 wickets in 133 Tests. After this, former Australian leg-spinner Shane Warne is in second place. Warne has taken 708 wickets in 145 Tests. James Anderson and Anil Kumble are joint third with 619 wickets. Former Australia fast bowler Glenn McGrath is at number four with 563 wickets. England fast bowler Stuart Broad completes the top-5 with 523 wickets.
James Anderson took two wickets for 15 runs in 13.4 overs including seven maidens by the time of stumps. James Anderson sparked his magic in the second session of the second day's play. He first made Cheteshwar Pujara (4) his first victim on excellent out swing. On the very next ball, Anderson achieved a big achievement by dismissing Kohli. England wicketkeeper Jos Buttler caught the catch of Pujara-Kohli.