1983 World Cup Memories: India became world champion on this day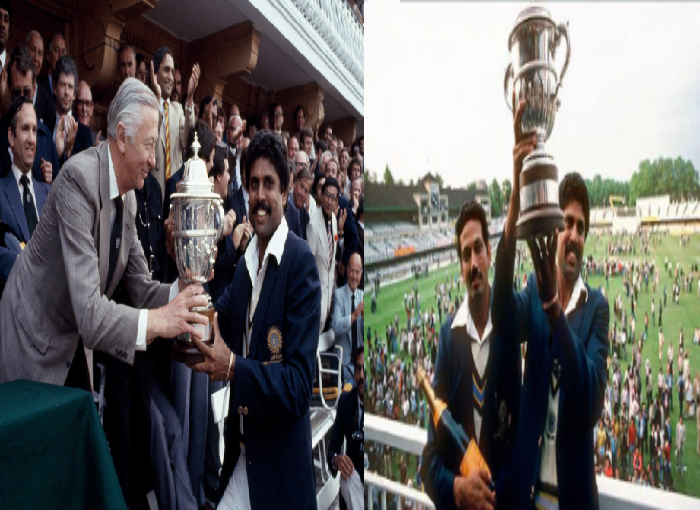 1983 World Cup Memories: India became world champion on this day
Whenever the history of Indian cricket is written, this day will always be remembered. It was June 25, 1983, when India under the leadership of young captain Kapil Dev defeated West Indies to win the World Cup. When the match started, cricket experts and watchers believed that the two-time champion Caribbean team would easily win the match and complete the title trio. But when the day's play was over, Kapil Dev was standing in the balcony of Lord's holding the trophy.
Clive Lloyd called India to bat first. Sunil Gavaskar got out after scoring just 2 runs. Krishnamanchari Srikkanth and Mohinder Amarnath tried to handle the innings. Together they added 57 runs. But the running speed has always been a problem.
India's team was all out after scoring just 183 runs. West Indies had a strong start. The score was 50 runs for 1 wicket. Vivian Richards was playing an aggressive innings. 33 runs off just 28 balls. The third title seemed to be going to the Caribbean team. But that over from Madan Lal changed the course of the match.
Madan Lal's first three overs did not go well. Kapil was thinking that what strategy should be adopted to stop Viv. Kapil was thinking with the ball in his hand that Madan Lal took the ball from his hand and went on the run-up. Madan Lal did not take steps just to bowl, but those steps were taken to make history. Richards tries to pull the ball off Madan Lal. The ball did not hit the bat completely. Kapil took a brilliant catch while running back. He ran back several steps but kept his eyes on the ball.
It did not take time for the score to be 76 for 6 from three for 57. But after that Jeff Dujan and Malcolm Marshall took over the innings and added 43 runs. There was obviously concern in the Indian camp. But this is where comeback man Mohinder Amarnath did wonders. He first bowled Dujan and got Malcolm Marshall caught by Sunil Gavaskar. After this there was not much left in the match and the Caribbean team was all out on the score of 140. India won the match by 43 runs.