Most Handsome Cricketers : View list Around The World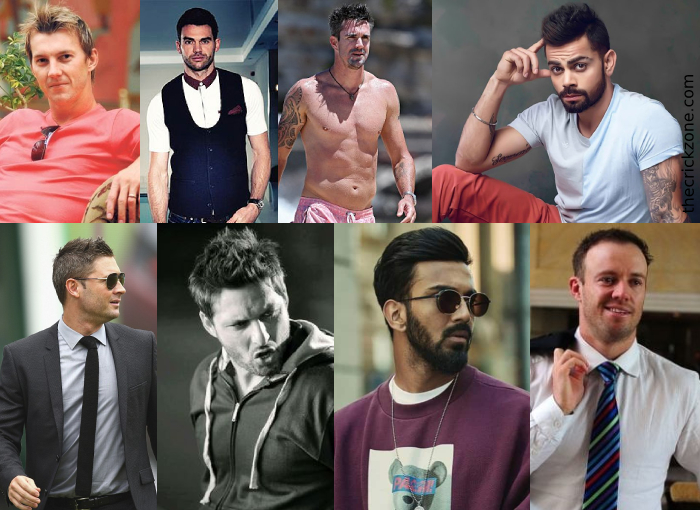 Most Handsome Cricketers : View list Around The World
Cricket is one of the most popular sports in the world. cricketrs fans from all over the world want to know everything about them. Today we will introduce you to those cricketers who are famous all over the world because of their looks as well as being beautiful on the field. We have brought you the list of top 10 handsome cricket players in the world.
Top 10 handsome cricketers all over the world
Virat Kohli
Everyone dies on the looks of Indian cricket team captain Virat Kohli. His style and killer looks brings him in the line of hand some cricketer. Virat Kohli with a height of 5 feet 9 inches is also the most followed cricketer on social media.
Brett Lee
With a height of 6 feet 2 inches, this lean Australian fast bowler is also included in the category of handsome cricketers. He is not only popular for his cricket but also because of his music. Brett Lee is one of the richest cricketers in the world.
Kevin Pietersen
England cricketer Kevin Pietersen has one of the biggest female fan following in the world due to his hair style. Curvy body with 6 pack, tattooed arms, his smile and charming looks he is easily in the list of top 10 handsome cricketers in the world.
Michael Clarke
Former captain of Australia team Michael Clarke's has an attractive personality with a height of 5 feet 10 inches. His smile makes him one of the top 10 handsome cricketers. With his brilliant batting, he has made millions of people crazy about him. Clarke comes in the list of richest players in Australia.
AB de Villiers
Former captain of South African one day international team AB de Villiers is Known for his good looking and fabulous smile. He is also a down to earth person. De Villiers is the best and explosive batsman in the world. Everyone is crazy about his batting.
Shahid Afridi
Boom boom guy of Pakistan team shahid afridi is a charming personality on which women are fond of him. Shahid Afridi is the highest wicket-taker in T20 matches as well as made a record for being man of the match for the most times in T-20 matches.
KL Rahul
Right-handed batsman KL Rahul is always on the hitlist of women across the globe. Indian batsman is included in this list due to his manly and charming looks. Rahul plays for Punjab Kings in the IPL.
James Anderson
James Anderson also called Jimmy is a part of the English Cricket Team. His hypnotic smile, deep coloured eyes, and sexy hairstyle can swoop any girl off her feet with just one look.
Michel Johnson
The Australian fast bowler rules millions of hearts with his strong looks and dimpled smile. This left-arm bowler has always attracted women with his personality and style. He also has many tattoos on his arm. Apart from being a good player, he is also not less in smartness.
Brendon McCullum
New Zealand's wicket-keeper batsman Brendon McCullum's killer looks strike the hearts of female fans. No doubt Brendon is in the list of top 10 handsome cricketer in the world. It is impossible to ignore his dashing looks. His dreamy eyes can make any girl go crazy.
Also Read: Top 10 highest IPL catch holders of all time
Also Read: Top 10 ODI greatest batsmen of all time