Proud Moment : Shafali Verma becomes youngest indian cricketer to play all 3 formats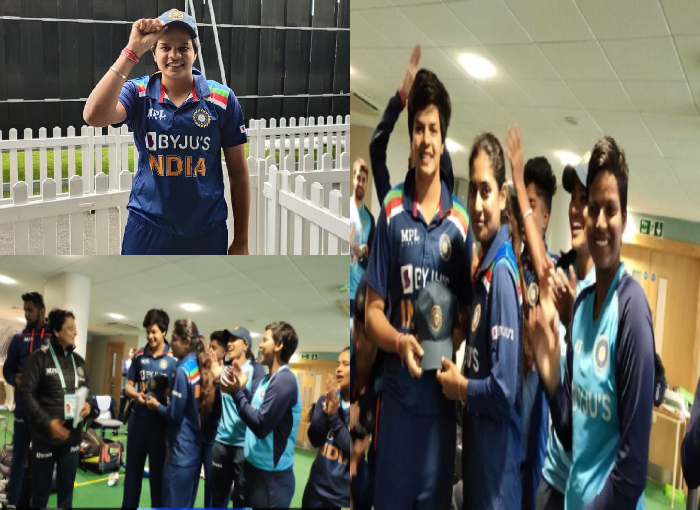 England Women Vs India Women: Shafali Verma becomes youngest indian cricketer to play all 3 formats
Shafali Verma, India's emerging young opening batsman in women's cricket, also made her ODI debut against England. This 17-year-old young star player made his debut in international cricket for the first time with T20 cricket in the year 2019 at the age of just 15. After this, she recently made her Test debut against England and made her ODI debut. With this, Shafali has become India's youngest cricketer to debut in all formats of cricket.
Before the start of this series, the captain of the women's team, Mithali Raj had asked the team management to allow Shefali to play her natural game. Shefali was playing fearlessly in her debut and she scored 15 runs in 14 balls with the help of 3 fours. But the ball was caught by K Brunt. However, even in this small innings, she entertained the audience a lot.
Shefali Verma made her ODI debut against England at the age of 17 and she created history. Shefali Verma has achieved the distinction of representing India in all three formats of cricket at the youngest. In this case, Shefali left Smriti Mandhana behind. Smriti had done this feat before Shefali. Smriti had represented India in all three formats of cricket till the age of 18 and now she has come at number two. At number three is the Indian team's fast bowler Ishant Sharma, who did this feat at the age of 19.
By the way, she has also become the fifth youngest cricketer in the world to debut in all formats. At the top of this list is the name of Afghanistan cricketer Mujeeb ur Rahman. Rahman made her all-format debut at the age of 17, England's Sarah Taylor at number two, Australia's Ellyse Perry at number three and Pakistan's Mohammad Amir at number four.