Top 10 Controversy in Indian Cricket History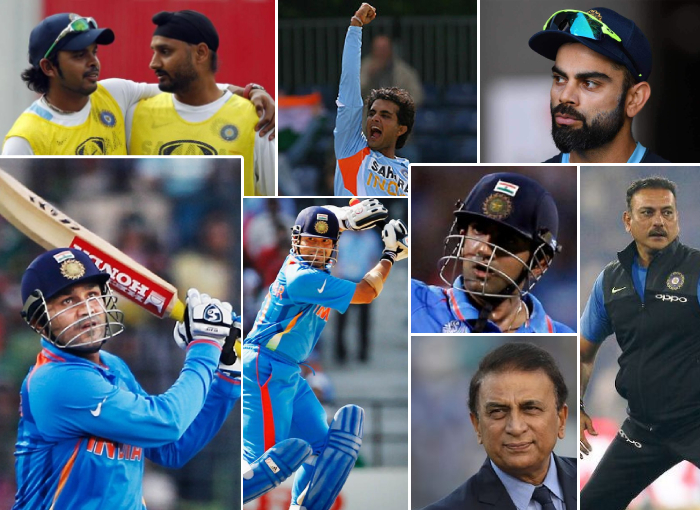 Top 10 Controversy in Indian Cricket History
Cricket is the favorite sport of all, but there is no doubt that every aspect of this game has been associated with controversies. There have been many controversies in the cricket field and outside the field that surprised everyone. We are going to tell you about the Indian cricket players who have been in the biggest cricket controversies.
Top 10 Indian cricket players controversies
Sreesanth
Indian player Sreesanth's career has also been surrounded by controversies. Sreesanth career has been affected due to slap scandal and match fixing.
Harbhajan Singh
A player of passion Harbhajan Singh's career has also been in controversy. He remained in the news after his fight with Andrew Symonds and the slapping scandal with Sreesanth.
Virat Kohli
Indian captain Virat Kohli has also been in controversies with his statement. In a promotional activity, Fan told him that he likes to watch Australian and English batsmen more than Indian batsmen. The Indian captain replied angrily saying that he should leave India and go to another country.
Sourav Ganguly
God of the offside Sourav Ganguly is surrounded not by a single controversy but with many controversies. He is a man of aggressive nature and by this behavior he was aggressive when the umpire gave out wrong on the field. Breaking the tradition of the Lords of London, in the joy of India's victory, he took out his T-shirt at the Ballakni and turned it into the air. The other captains had to wait for the toss. Dismissal of KKR's removal from captaincy
Sachin Tendulkar
Bharat Ratan player Sachin Tendulkar has also not been untouched by controversies. Sachin was accused of tampering with the ball and making a statement on the Marathi man. Tendulkar has also been accused of insulting the tricolor.
Virender Sehwag
One of the funniest cricketer of team India virender sehwag has also in the controversy. Sehwag had a very difficult relationship with Dhoni. He still does not like Dhoni's strategy and criticizes his strategy whenever he gets a chance.
Gautam Gambhir
Indian team opener Gautam Gambhir has also been in controversies throughout his cricketing career. The fight between Gautam Gambhir and Bengal captain Manoj Tiwari was in the news of all time. Gambhir and Afridi's debate has been in the news a lot. Virat Kohli has also been a victim of Gambhir's anger.
Sunil Gavaskar
Legendary cricketer Sunil Gavaskar is caught in controversy during the IPL match by commenting on Indian skipper Virat Kohli and his wife Anushka Sharma. After which Gavaskar said in his clarification that it has been misrepresented on social media.
Ravi Shastri
Indian cricket team coach Ravi Shastri also faced controversies many times. Ravi Shastri held Sourav Ganguly responsible for not being the coach of CAC, after which the controversy went on increasing. Shastri also had a lot of controversy about the film Azhar.
Navjot Singh Sidhu
Indian player Navjot Singh Sidhu's cricket career has also been in controversy. Sidhu is at loggerheads with the captain on every cricket pitch. Sidhu's dispute with CM Captain Amarinder has also been in the news. In cricket too, there was a dispute with Captain Azharuddin and Sidhu left the England series in 1996.