Top 10 highest IPL wicket-takers of all time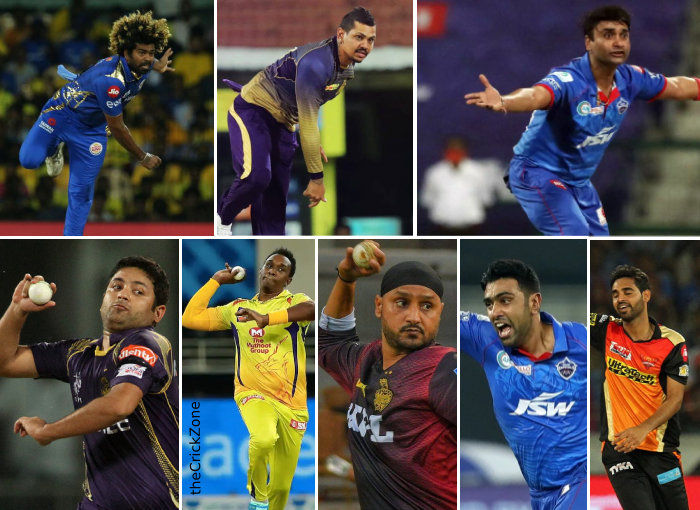 Top 10 highest IPL wicket-takers of all time
Here are some of the highest IPL wicket takers of all time
IPL is the biggest cricket league in the world. Fans are crazy for IPL, not only in India but all over the world. We are here to talk about some of the highest IPL wicket takers of all time. Can you guess the leading wicket taker?
Most Wickets in IPL History
Lasith Malinga – Malinga has 170 wickets in 122 IPL matches. Malinga was at his peak prime during IPL 2011. He won the Purple Cap for scalping the most wickets in that edition – 28 in 16 games.
Amit Mishra – Amit Mishra has taken 160 wickets in 150 IPL matches. The leg-spinner holds the record for picking up the highest number of hat-tricks in IPL history.
Piyush Chawla – Piyush has 156 wickets in 164 IPL matches. He is probably best remembered for scoring the winning runs for KKR in the 2014 final.
Dwayne Bravo – Bravo has taken 153 wickets in 140 IPL matches. A personification of swagger itself, Bravo has been one of the best all-rounders in the IPL.
Harbhajan Singh – 'Bhajji' has 150 wickets in 160 IPL matches. He is one of the greatest Indian spinners, who boasts of a decent IPL record.
Ravichandran Ashwin – Ashwin has taken 138 wickets in 154 IPL matches. He is the second-fastest bowler to reach 400 wickets in Tests.
Bhuvneshwar Kumar – Bhuvi has 136 IPL wickets in 121 IPL matches. His best bowling figures of 5/19 came against Punjab Kings in 2017.
Sunil Narine – Sunil Narine has taken 127 wickets in 120 IPL matches. He has came a long way to become a better all-rounder in recent times.
Yuzvendra Chahal – Chahal has 121 wickets in 9 IPL matches. Yuzi is known for his entertaining persona on and off the pitch.
Umesh Yadav – Umesh has taken 119 wickets in 121 IPL matches. He has an equally impressive international record with over 200 wickets for India across formats.
Also Read: Most Handsome Cricketers : View list Around The World
Also Read: Top 10 highest wicket-taker in test cricket