Top 10 Most Beautiful & Hottest women Cricketer in the World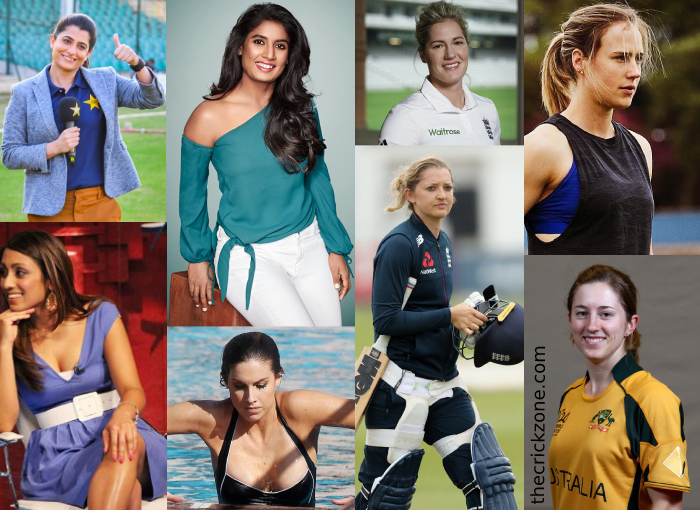 Top 10 Most Beautiful & Hottest women Cricketer in the World
Hardly anyone would doubt about the talent of a female cricketer in the world. That's why the attention of the audience remains on their beauty along with their game. Today we are going to introduce you to the top 10 most beautiful women cricketers in the world.
Sana Mir
Pakistani national team Captian Sana Mir has beauty with brain. Sana is the first female cricketer to be honored with the PCB Women's Cricketer of the Year 2013 award. She won two gold medals in the 2010 and 2014 Asian Games. She is the only Pakistan cricketer who took 150 wickets in ODIs and stands sixth cricketer in the world. Sana Mir is considered one of the most beautiful female cricketers in the world.
Mithali Raj
India's most experienced female player Mithali Raj is known for her beauty as well as brilliant batting. Mithali, who has scored an average of more than 50 in ODI cricket, has scored a total of 6938 runs in 210 matches. During this, she has scored 54 half-centuries and seven centuries.
Sarah Taylor
Sarah Taylor, who has made everyone crazy with her beauty, is the most brilliant player of the England women's cricket team. This wicketkeeper, who debuted in international cricket at the age of 17, holds the record for the most number of dismissals. Apart from this, Sara is the second cricketer for England to score more than seven thousand runs in international cricket. This beautiful cricketer has scored 266 runs in 8 test matches.
Ellyse Perry
Australia's star all-rounder Ellyse Perry is the only cricketer in the world to take more than 1,000 runs and more than 100 wickets in T20 Internationals. Till now no player in male cricketer has been able to do this feat. Perry's beautiful look and amazing beauty attracts anyone. She is the first female player in the world, who has played both cricket and football World Cup matches.
Isa Guha
England's famous cricketer Issa Guha participated in the Women's World Cup played in South Africa in 2005. Issa is a straight-arm fast medium bowler. Issa made her Test debut against India at the age of 17. Isa has also anchored in IPL. Issa has won the 2009 World Cup. She also writes columns for the BBC Sports website.
Holly Ferling
Australian cricketer Holly Lee Ferling is one of the most beautiful cricketer in the world. In 2013, Holly started playing for the Australian women's cricket team. Holly throws the medium-paced ball. Holly performed brilliantly in the 2013 Women's Cricket World Cup. She has taken 3 wickets in 3 test matches. She has taken 24 wickets in 22 ODIs.
Katherine Helen Brunt
England women's cricketer Katherine Helen Brunt hotness overloaded. In 2006 and 2010, Katherine has received the title of Women's Cricketer of the Year. She is popular among her fans.
Laura Marsh
Lara started her career as a medium pace bowler. English cricketer Laura Alexandra Mars started playing cricket at the age of 11. She is considered a very proficient player in throwing off spin balls. In 2006, Laura made her debut in Test cricket against India. In 2008, she performed brilliantly for England against Australia.
Rachael Haynes
The record of Australian player Rachael Haynes is very good. She has scored 172 runs in 6 innings of 3 test matches and also took 2 wickets. She has scored 832 runs in 34 ODIs and has taken 5 wickets. In 27 matches of T20, she has scored 223 runs and has taken 4 wickets but her beauty far exceeds his performance.
Felicity Layden Davis
New Zealand player Felicity has not played many international matches but everyone is crazy about her beauty. He took 5 wickets in her first ODI. She has taken 4 wickets in 8 matches of T20.