Top 10 Shortest Cricketers in Cricket History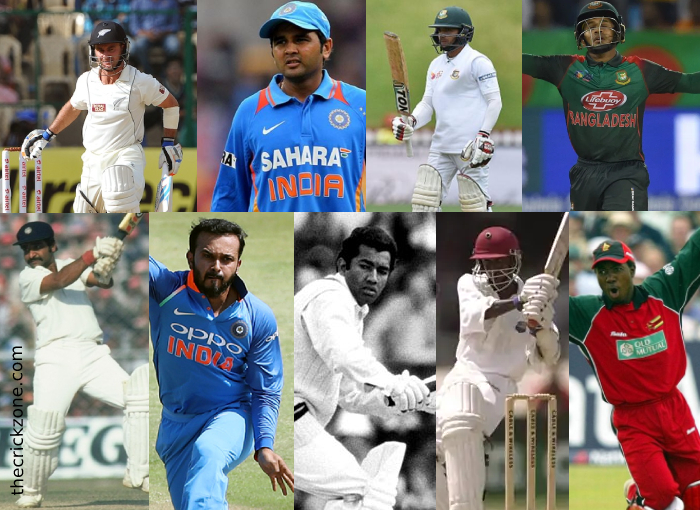 Top 10 Shortest Cricketers in Cricket History
Here are the top 10 shortest cricket players in the world
Short cricketers doesn't have much advantage over tall players, but we have witnessed some great short player. Sachin Tendulkar is the greatest example of this category.
Top 10 shortest cricket players in the world:
Kruger van Wyk (4.75 ft) – Despite being a legend in the domestic cricket, van Wyk could only manage nine Tests for his country after making his debut in 2012 against South Africa.
Parthiv Patel (5ft) – Despite scoring tons of runs for Gujarat, he failed to attract the selectors due to the omnipresence of MS Dhoni.
Mominul Haque (5.3 ft) – The 5 ft 3 inches tall batsman scored a valiant fifty against Sri Lanka in his debut in 2012 and backed it will some swashbuckling knocks.
Mushfiqur Rahim (5.3 ft) – Mushfiqur Rahim is one of the greatest to play the game for Bangladesh. He became the youngest cricketer to play a Test match at the Lord's Cricket Stadium in London.
Gundappa Viswanath (5.3 ft) – Viswanath was Sunil Gavaskar's brother-in-law. Viswanath was around 5.3 ft tall which made him one of the shortest cricketers to play cricket ever since its inception.
Kedar Jadhav (5.41 ft) – Jadhav, who is only 5.4 ft tall became a breakthrough bowler for India with his off-breaks under MS Dhoni's regime.
Alvin Kallicharran (5.4 ft) – Alvin's short height of 5.4 ft helped him to succeed as a batsman against some of the greatest bowlers. Notably, he is one of the shortest cricketers to have played the game of cricket.
David Williams (5.4 ft) – Among all the latest cricketers to have played for West Indies, Williams was the shortest of all. With only 5.4 ft heigh, he also enters the list of the shortest cricketers of all time.
Tatenda Taibu (5.41 ft) – With only 5.41 ft height, Taibu is one of the shortest cricketers to play the game.
Sachin Tendulkar (5.5 ft) – Tendulkar has been a nightmare for the bowlers across the globe. He is among the shortest cricketers and the greatest ever to have played the game of cricket.