Top 10 Test greatest batsmen of all time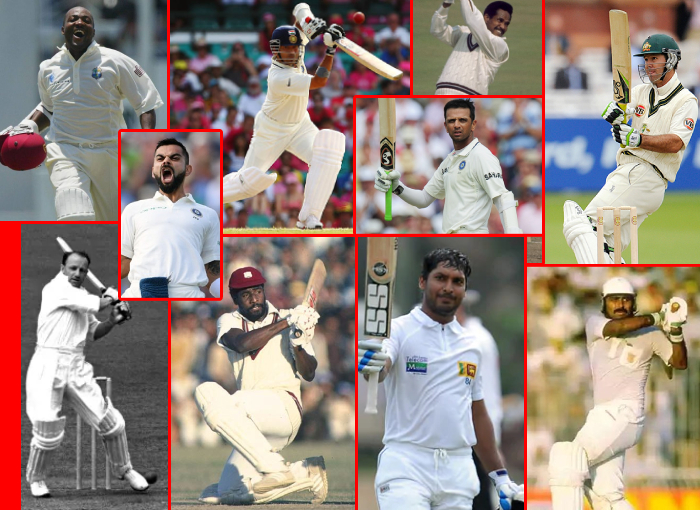 Top 10 Test greatest batsmen of all time
Cricket is most renowned sports that touches everyone's hearts. Test matches are one of the most challenging formats in cricket. Players try their best to perform best on test matches, but few are able to establish themselves better, here we are going to tell you about top 10 greatest batsmen of the world who have not only performed well in Test matches but also ranked number one in ODI's and T20 matches.
Top 10 Test greatest batsmen
Brian Charles Lara
Brian Lara is one of the best test batsman ever in the entire cricket history. Lara represent the West Indies and Lara is the only player who is a left hander. Lara is one of the highest individual run makers, he scored 400 not out again England which will always remain best in world history. His style of play leaves the audience spellbound and now he holds his place in the list of top 10 greatest batsmen of all time.
Sachin Tendulkar
Indian cricketer Sachin Tendulkar is one of the finest batsman of his era. He holds the record for the most runs of 100 international centuries. Tendulkar has performed 463 ODIs and 200 tests in 24 years, which is highest among all players. Australian cricketer Brett lee also praised Sachin as the greatest batsman ever.
Don Bradman
Australian legend Don Bradman is one of the best sportsman of all times. He broke all the records and ended his test career with a batting average of 99.94 which was impossible and never be broken by anybody. Bradman records is still effective in the history of cricket, there are many batsman who are still in the race to break don's record. don has prepared a different cadence for cricketers. Don scored 29 test centuries from 80 innings.
Ricky Ponting
Ricky Ponting is one of the successful Australian captains and is also included in one of the finest batsmen of his time. The Australian team won the World Cup twice under his captaincy. Indian batsman Sachin Tendulkar has been his rival. Ponting has scored 41 Tests and 30 ODIs in his career as well he is one of the few batsmen to reach over 10,000 Test match runs.
Javed Miandad
For the first time, Pakistan presented the best batsmen, Javed Miandad, who won Pakistan by hitting a six in the last ball against India in the 1986 international game. Javed has scored 1083 runs in 33 matches at 6 World Cup tournaments. He performed 23 tests and 8 ODI centuries and listed in top 10 greatest batsman.
Viv Richards
Viv richards is an spooky batsman the game has ever seen. Carribean Legend is still considered the best batsman because of his power hitting and confidence. He enrolled his name as the most powerful and destructive batsman in cricket.
Garfield Sobers
Garfield Sobers is well known for the all rounder and one of the best batsman in the cricket history. His batting average of 57.78 in test cricket with the highest score of 8000 test match runs and 235 test match wickets.
Kumar Sangakkara
Kumar Sangakkara is greatest batsman in the cricket history as he performed 134 tests, 404 ODIs, over 28,000 international runs and 63 international centuries. He won the T20 World Cup in 2014.
Jacques Kallis
Jacques Kallis is an excellent all rounder in his times. He remains as a top players for the long time in South African team. Kallis holds more than 11000 runs and 250 wickets in both one day and test match cricket. With an average of 45 in ODIs and 57 in tests, he is in the list of top 10 batsman in the world.
Rahul Dravid
Indian legend Rahul Dravid is the finest test batsman and with no doubt he is 'The Wall' of test matches. The wall had an average with 53 test career and 40 ODIs. He found fourth highest run scorer in test cricket after Sachin Tendulkar and Ricky Ponting. He has performed very crucial innings in test crickets and ODIs.
Virat Kohli
Virat Kohli is one the most powerful batsman with great captaincy. He has scored 11867 runs in the 248 matches at an average of 59.33, while his 43 centuries are second only to the great Sachin Tendulkar. While playing his target is only to win the game.